Somerset Hydroponics was established in 1999 but the idea began in the early 1990's when product choices were few and retailers even fewer! At that time myself (Lee) and my good friend David recognised the need for quality Hydroponic and organic gardening products, but more importantly an honest approach to the information to back them up as we had personally grown tired of being overcharged for underperforming products supplied by under experienced people!
So, after a few good years of passionate indoor gardening, myself and David decided that enough was enough and in 2000 opened our first humble and sparsely stocked store with the hope that our enthusiasm, own experience and honest approach would be enough to see us over the hurdles of being in business for the first few years…and here we are nearly twenty five years later! We are extremely lucky to have retained many of our customers from the early years and this can only have been achieved through our knowledgeable and honest approach to products, and as important if not more so, the relationships formed with our awesome customers!

There will always be a cheaper guy down the road, a retailer much larger than us that can discount beyond our capability or a seller that has a daytime job and is simply box-shifting cheap products as a secondary income, but for those that know us and have stayed with us, they know that we will take that extra time to help you gain more from your gardening efforts, resolve a growing issue…or simply spend friendly time to chat about how life is for you and yours outside of gardening!
David is no longer at the forefront of Somerset Hydroponics, but to this day remains a continuous part of its rebellious spirit hehe. Myself and the team hope that you find the website useful and competitive, and we look forward to seeing you at the store should you wish to pay us a visit…Very best green regards ~ Lee 🙂 x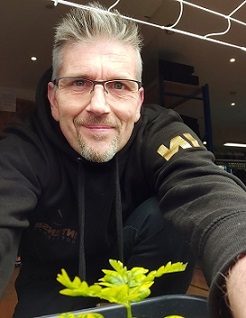 Somerset Hydroponics was established by gardeners for gardeners and as such we are committed to your needs. We hope that you find our site informative, competitive and safe for all your online shopping needs. We hope that you soon become a part of our happy community of gardeners!
We value our customer's opinions, so please feel free to make suggestions or comments about our website or business in general by clicking here.